This is what you can make from leftover yarn. I knitted this jacket after I finished the bed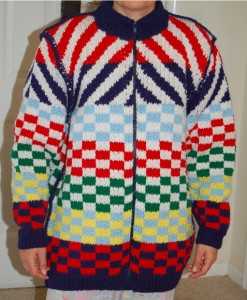 cover. It is easy if you have patience to knit with more than one skein and one color at a time. I used a crochet needle to sew it together to add some style to it.
Attaching the zipper was a little tricky, my mother-in-law taught me how to do it. We put the sweater flat on a table and pinned the zipper (zipped up)  so that the squares match on each side and voilà it worked! This was the easiest and best way to do it.